There is a place in Moravia where you can see real mummies. They are not as old as those in Egypt, but old enough to generate genuine scientific interest among anthropologists at Masaryk University in Brno. Vít Pohanka made the trip to eastern Czechia and found out that quite soon one of the mummies might be brought back to (virtual) life.
To most people, mumies–or mummified human bodies–are inseparably connected with Egypt. This somewhat overshadows the fact that you can find burial places with uniquely preserved human bodies in other parts of the world, including Brno in the south-eastern corner of Czechia. Kateřina Hlouchová, manager of the Capuchin Crypt of Brno, shows me around this eerie place where members of the Order of Friars Minor Capuchin where buried in the 17th and 18th centuries. She notes that even though these mummies are relatively young compared to those of ancient Egyptian kingdoms they are to this day fascinating witnesses of their customs and way of life:
"Visitors can see two rows of Friars clothed in the remains of their typical brown habit. They were not buried in coffins but laid directly on the bare ground with only a couple of bricks under their heads. That was a typical burial custom in the Capuchin Order in line with the philosophy of Saint Francis of Assisi their founder. He criticized the Catholic Church's tendency to accumulate worldly property and wealth. This is a kind of a thin red line going through the whole history of the order. So up to this day, if anyone enters the order, they have to promise to observe the principles of purity, poverty, and obedience. By laying on the bare ground they demonstrate they do not need even a coffin – that this would be a needless luxury."
The Capuchin Crypt of Brno was used until Holy Roman Emperor and ruler of the Habsburg Lands Joseph II initiated reforms intended to modernize the life of his subjects. One of his edicts, or patents as they were called then, concerned burial practices. In 1784 such an edict banned burying the dead within the city limits, in order to prevent the possible spread of diseases. By then some 200 people had been buried in the Brno Crypt and the remains of many of them have survived to this day: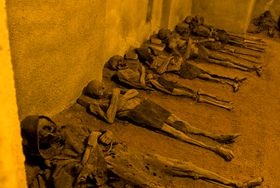 Photo: Vít Pohanka"They could be preserved thanks to an elaborate system of ventilating air ducts. They worked very reliably and effectively dehydrated the bodies. This was complemented by a favorable geological composition of the soil onto which the bodies were laid. These two factors together caused the mummification that – as we can see even today – was very successful."
The mummies of Brno are not just some sort of macabre tourist attraction or curiosity for the general public. They are a subject of genuine scientific interest and study. I was invited to the Department of Anthropology at Masaryk University in Brno by assistant professor Petra Urbanova. She promised an expert explanation of the "mummy phenomenon" for a lay person like me: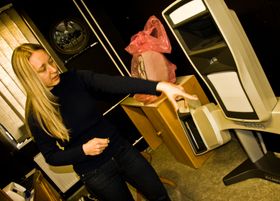 Petra Urbanová works on bringing Baron Trenck back to life – in virtual reality, photo: Vít Pohanka"The process of mummification takes place when there is a rapid dehydration of the human remains, specifically the soft tissues. There needs to be a constant dry air-flow and special composition of the ground on or in which the bodies are buried, especially the absence of nitrogen. It is quite rare that body remains are mummified here in Central Europe, but it does happen."
Both experts and the Capuchin Order would like to popularize the unique crypt. And when it comes to that there is no better way than to use the posthumous services of probably the most famous person buried in the Crypt: Baron Franz von der Trenck. Kateřina Hlouchová tells me more about him: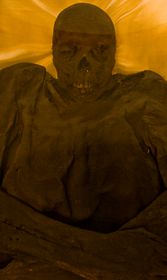 Mummy of Baron Trenck, photo: Vít Pohanka"He entered the services of Maria Theresa when the Empress was fighting the War of the Austrian Succession. His little army was effective but committed many gruesome atrocities, as well. So Baron Trenck ended up as a prisoner for life here in Spilberk Castle in Brno convicted of high crimes including looting and murdering innocent people. It was only at the end of his life that he started seeking salvation with the help of the Capuchin Friars – one of the main offshoots of the Franciscan Order. They regularly visited the prisoners of Spilberk and helped Baron Trenck see that he had not led a righteous life. He eventually became very religious, asked to be buried here in the Crypt having bequeathed all his worldly possessions to the Capuchins' Order.
The Department of Anthropology at Masaryk University in Brno is now working on bringing Baron Trenck back to life – in virtual reality, that is. Experts are using the most modern technologies: 3D imaging and printing, CT scan (or computer tomography scan). It will take some time, but pretty soon she and her colleagues will be able to state, that the mummy of Baron Trenck is truly back and visitors will be able to interact with it.