The Department of Veterans Affairs calls this concern "unfounded," but HuffPost spoke to veterans and experts who explained the roots of this fear.
By Carolina Moreno
Adam Lingo, a retired Army staff sergeant, walked across 11 states last year, flanked by men who had become like brothers while serving together in Iraq. They made the nearly 3,000-mile journey to honor their dead and ― more pressingly ― help other veterans still struggling.
"We started doing the numbers and I think we lost more guys to suicide in our unit than we did while we were in combat," the 42-year-old veteran told HuffPost, referring to the men who served in his 1-24 infantry unit in the early 2000s.
"It is an epidemic and it's something I don't think the [Department of Veteran Affairs] is paying enough attention to," Lingo said. "Honestly, I don't think they know what to do."
But only about half of the vets from these wars who might need mental health treatment ― not only for PTSD but also substance use and depression ― actually seek it through the VA or private health care. To receive health care from the VA, vets must undergo PTSD screening, and those who are diagnosed with it or other conditions are eligible to receive monetary disability benefits.
During his trek, Lingo noticed a pattern among veterans who needed help for mental illnesses: They were afraid to reach out for it.
Many of the vets he spoke to were distrustful of the government, and he described a common refrain he heard along the way: "'Hey, if I do go and I register to get help and they do diagnose me with PTSD, am I gonna be able to keep my guns?'"
And it's an obstacle fraught with danger. PTSD increases a veteran's risk of substance abuse, severe depression, anxiety, death by suicide and also has a small but significant link to domestic violence. Left untreated, these risks are even higher. One study found that U.S. army service members who died by suicide from 2001 to 2009 were nearly 13 times more likely to have a PTSD diagnosis.
I get asked that question more than once every single week: 'If I file a claim for PTSD are they going to take my guns?'"Heather E. Vanhoose, veteran attorney
"It's very real among my client population," said Vanhoose, who is based in West Virginia but handles cases nationwide. "I get asked that question more than once every single week: 'If I file a claim for PTSD are they going to take my guns?'"
She added that none of her clients have ever had any issues with owning or buying a gun because of their PTSD classification.
But veterans' concerns aren't irrational, either. The VA has the ability to deem a veteran "mentally incompetent" to handle monetary benefits through its fiduciary program ― a decision that would bar the beneficiary from possessing or purchasing a gun.
An incompetent rating, tied to the management of VA-allocated monetary benefits, results in the appointment of a trustee on the veteran's behalf. Then, in compliance with the Brady Handgun Violence Prevention Act, the agency sends the names of incompetent beneficiaries to the FBI, which in turn places the names into the National Instant Criminal Background Check System (NICS). A name in the NICS is what could prevent a veteran from buying, transporting and owning a firearm.
While a mental incompetence designation is a possibility for some vets, a misunderstanding of the VA's protocol may be preventing many more from getting the mental health care they need. A VA spokesperson told HuffPost that veterans' concerns of losing their firearms due to a PTSD diagnosis are "unfounded."
Still, the fear persists ― particularly among veterans hoping to work or who are already working in law enforcement jobs, the vast majority of which require that a person be legally able to possess a gun.
Mike, whose name has been changed because he did not have permission from his police department to speak to the press, is an Oregon-based police officer of almost a decade and an Iraq War vet. He told HuffPost that at the beginning of his career he was afraid to seek help for his PTSD because he thought it could mean losing his job.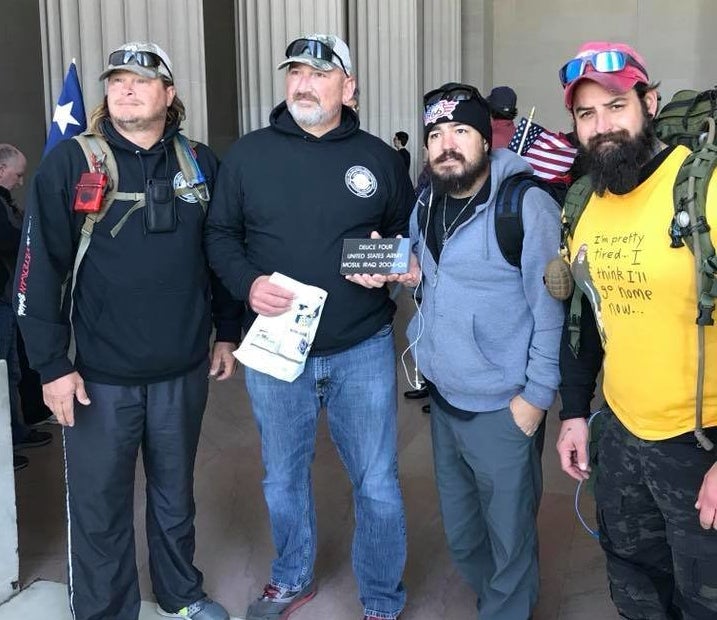 "There is definitely some stigma, with being a police officer and being diagnosed with PTSD," he said, adding that he only sought help after an injury led him to question whether he would be let go from his department anyway.
The VA offered him benefits and regular counseling, and he now focuses on reaching out to veterans who have yet to seek help.
Mike said he answers a call about a distressed veteran almost weekly. The men and women he comes across are often suicidal ― sometimes they haven't slept in days, a symptom of their PTSD.
The police officer must often peel back the sleeve of his uniform to reveal the infantry badge inked on his forearm ― a tattoo that has helped him make immediate, life-saving connections with many vets reluctant to speak about their experiences and fears.
"I go to these calls and one of my first questions while we're talking is, 'Why haven't you gone, before now, to seek help?'" Mike said. "It is a common theme that they are afraid of losing the right to own firearms."
When The Fear Becomes Real
The bombing, which killed 22 people and left dozens injured, was one of the deadliest attacks on U.S. forces during the war. It was also the last time Montoya and Lingo saw four of their fellow soldiers, including commander Capt. William Jacobsen.
After 16 years in the army, Montoya received a PTSD diagnosis. It had no impact on his ability to purchase or own guns legally, but two subsequent experiences with the VA in 2015 almost did.
It began with his drinking. Once stateside, the veteran self-medicated with alcohol. "I think I was just trying to numb the pain," Montoya, who now lives in San Bernardino, California, told HuffPost.
But when he sought help to quit drinking at a VA clinic, Montoya said he ended up in a psychiatric hold for two days because staff confused his emotional state with being suicidal. "It was degrading and embarrassing," he added.
(Citing patient privacy concerns, the VA was unable to corroborate why Montoya was put in a psychiatric hold.)
"I've done a couple of tours, I've seen a lot of stuff. My mind isn't what I would call normal," Montoya said. "But, I'm not crazy. I'm not homicidal. I'm not suicidal."
It's a distinction that Montoya feels passionate about making, particularly due to how often veterans are erroneously portrayed as dangerous or "ticking-time bombs."
Circumstances were further complicated months later when Montoya sought to increase his VA benefits after he quit drinking (the veteran told HuffPost he's currently almost three years sober). Montoya went through a procedural psychological evaluation during which he said a doctor asked him about his finances. The vet said he told the doctor that he allows his wife, a social worker, to manage household finances because she helped him get out of debt and get his credit score over 700.
A couple of weeks later, he received a written notice from the VA referencing his psychological evaluation and informing him that the agency was considering designating him incompetent, putting his firearm possession rights at risk.
I've done a couple of tours, I've seen a lot of stuff. My mind isn't what I would call normal. But, I'm not crazy. I'm not homicidal. I'm not suicidal."Eddie Montoya, Iraq veteran
There remains a lack of clarity surrounding the threshold of injury or disease that could lead the VA to declare a veteran mentally incompetent, but the agency told HuffPost the decision is not directly connected to a single diagnosis.
"While a mental disorder, such as PTSD, may be considered a disease under 38 C.F.R. § 3.353(a), the fact that an individual has been diagnosed by a VA physician as having a mental disorder ― or even that the individual has been found to be disabled for purposes of VA disability compensation ― would not establish that the individual lacks the mental capacity to manage his or her own affairs," VA press secretary Curt Cashour said.
Veterans are given a due process period to fight a proposed incompetence rating. Montoya was told he had 60 days to respond with evidence to prove he did not need a fiduciary.
"My attorney fought it," Montoya said. "They ended up increasing my benefits from 50 to 100 percent and they took away that letter saying they wanted to seize my weapons and give me a trust for my disability money."
Montoya added that at no point during the three to four-month process did anyone show up attempting to seize his firearms. He also said he's had no issues purchasing a gun since.
Last year, however, Montoya said he was denied a concealed carry permit by the San Bernardino County Sheriff's Department. He said an officer told him it was due to his medical history and the veteran suspects it has something to do with his PTSD or his time in the psychiatric hold.
"I was reaching out to a 'trusted' source and got penalized for it," Montoya speculated. "This is why vets won't reach out."
"The Sheriff's Department generally does not request medical records from our applicants," Yost added, but applicants do sign a notarized authorization to release certain medical information, including psychological records, in accordance to state law.
Deadly Consequences
Some veterans forego mental health treatment over the possibility they'll lose their gun ownership rights, but leaving PTSD untreated is dangerous. In particular, vets who don't seek treatment for PTSD could run a higher risk of dying by suicide, forensic psychiatrist Dr. Elspeth Cameron Ritchie told HuffPost.
"PTSD symptoms wax and wane, but certainly not getting help can make things worse," she said, adding that there's a very close link between PTSD and depression.
It's a grim reality Lingo, Montoya and the men in their infantry unit have witnessed up close over the years ― and the reason the veterans set up the nonprofit Brotherhood Bridge, which seeks to help veterans integrate back into civilian life, after their "Walk of Life."
"I've had tons of friends that had guns to their head ― I did, at one point ― so I understand it," Lingo said. He described his own "Russian roulette"-style incident as something that happened "years ago" while he was still in the army.
I've had tons of friends that had guns to their head ― I did, at one point."Adam Lingo, Iraq veteran
Lingo said his past experience with depression is one reason he doesn't currently own a gun.
"I wouldn't want to use it on myself," he said, adding that he also simply doesn't feel he needs one at the moment. "Now, if I ever felt like I needed one, I would go and get one … I feel like I should be able to have a gun. I just choose not to have a gun."
The sort of nuance that Lingo describes is difficult to achieve from a policy standout ― as experts and policymakers seek to both keep veterans safe and protect their ability to own guns. And Dr. Ritchie said there's no easy solution when it comes to creating guidelines that delineate who is fit to own a gun and who is not in relation to mental health.
"I think it's important to talk about it as an issue and to look at the data that exists rather than classify people either as ticking time bombs or 'everybody is just fine'," she said.
"How many wars has America been in? And this has been an issue after every single war we've ever gone to," the Oregon cop said. "Still today, I'll go to calls of old Vietnam veterans and they're still having issues with PTSD and they've buried it with alcoholism, drugs or other things … You'd think we'd have figured it out by now."